THE ATTACK OF THE MUSIC IS THE MOST IMPORTANT THING !!!
YOU ONLY GET THAT FROM SUPER PRECISION ACCURACY !!!
The Fine adjustment in the computer control is TENTH movement. That is, point of an RPM.
SUPER REFERENCE, SUPER TOP OF THE LINE DC MOTOR !
DON'T BE FOOLED INTO a Potentiometer ADJUSTMENT that DON'T WORK.
OLD SCHOOL THINKING and OLD SCHOOL WAYS

STEP UP TO COMPUTER CONTROL , LOCKED INCREMENTS, Point of an RPM at a TIME !
ONCE YOU SET THE CONTROLLER WITH THE COMPUTER YOU ARE DONE !

EXPRESSIMO IS THE FIRST ONE TO GO COMPUTERIZED !
WHO LEADS with INNOVATION !!!!
EXPRESSIMOAUDIO !!!!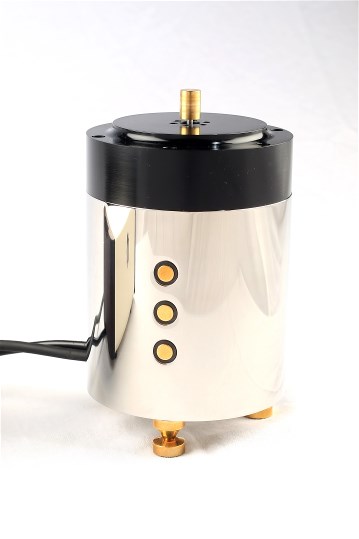 THE BEST OF THE BEST !!!!!!!!!!!!!!!!
SWISS MADE DC MOTOR !!!!
TRUE ZERO COGGING
TOUCH SWITCH TECHNOLOGY
No more OLD school switching

DC Motors are high-quality motors fitted with powerful permanent magnets. The "heart" of the motor is the worldwide patented ironless rotor. For you, this means cutting-edge technology in compact, powerful and low inertia drives.

The Controller is controlled by software, yes computer programmable controller.
Everything from each speed to the SPEED RAMP and the Fine Adjustment is
done on the software.
This Encoder has 1000 ( Yes that is 1000) lines of Optical Resolutions.
It checks Position 1000 times per Revolution.
Motor can turn speeds up to 4000 RPM.
Delivering high torque with zero cogging to drive the massive platter assembly.
Turning Platters WEIGHING up to 70 + Pounds.
It has 2 speeds which you program from 33.3300 and 45.0000 or
program 78.0000 as one of your speeds


THE RPM FINE ADJUSTMENT IS ULTRA FINE !
Adjusting in TENTHS of an RPM !
POINT OF AN RPM, .1 to .9 of an RPM is ULTRA Fine Adjustment.

The Controller has a SPEED RAMP , which allows the platter to comes on slowly then gets up to speed.

Power Supply was Built, with ZERO RIPPLE.
ON & OFF Plasma Power Switch
also Fused.
120 volt with Standard Plug US and European 220 and Plug also available

MOTOR HOUSING
Motor Housing is made from a Solid piece of Stainless Steel.
Upper Housing made from 1.100 Thick DELRIN for Insulation.
4 Rubber Independent Isolation Area's.

The 3 Brass TOUCH buttons on the front of the motor housing are backlit with LED lights
showing what speed you are in.
If you have the time CALCULATE .300 DRIVE PULLEY AND 12.000 PLATTER SIZE