The Brass Half Moon Heavy Weight.
Counter Weight.
Special order page.
brian@expressimoaudio.com
603 745 3030
Please email the precise measurement of your end stub using a micrometer and the weight you are using.
I will help you get a Half Moon Heavy Weight on your tonearm.
Get ready to HEAR the DIFFERENCE !!!
" IT WILL BLOW YOU AWAY "
You will hear :
More details in the music.
Cleaner highs, More detailed mids , ,and Fast clean bass, Deeper bass.
The Sound Stage details come alive and in a total harmonic balance.
That's what the brass Half Moon Heavy Weight will do for you.
The Steel weight can not even come close to the sound you get from the Brass Half Moon Heavy Weight.

Cartridge Weight works like this:
Cartridges 6 to 10 gm, Moon Weight 120
Cartridges 10 to 14 gm, Moon Weight 140
Cartridges 14+ Moon Weight 160
The Half Moon Heavy Weight was designed with two specifics in mind.
A lower mass weight and a linear design for more stability and neutral balance.
Giving the tonearm more neutral balance is key for more natural sounds.
The Half Moon Heavy Weight is made from solid brass with a brushed finish.
Designed with a Delrin insert for more of a sonic fit.
Has a Teflon tipped screw so it does not scratch the end stub.
For the uni-pivot tonearms, what a breeze setting the azimuth with the Half Moon Heavy Weight. Designed with geometry in mind. Expressimo Audio designed the Half Moon Heavy Weight so it had a small amount of weight movement, better linear design for more stability and neutral balance. This is a must have and you should try one.
Customer Testimonials
The Brass Moon Weight on my Funk Firm LSD, F5 Mk II tone arm.
End Stub Diameter was .315 Thousands or 8mm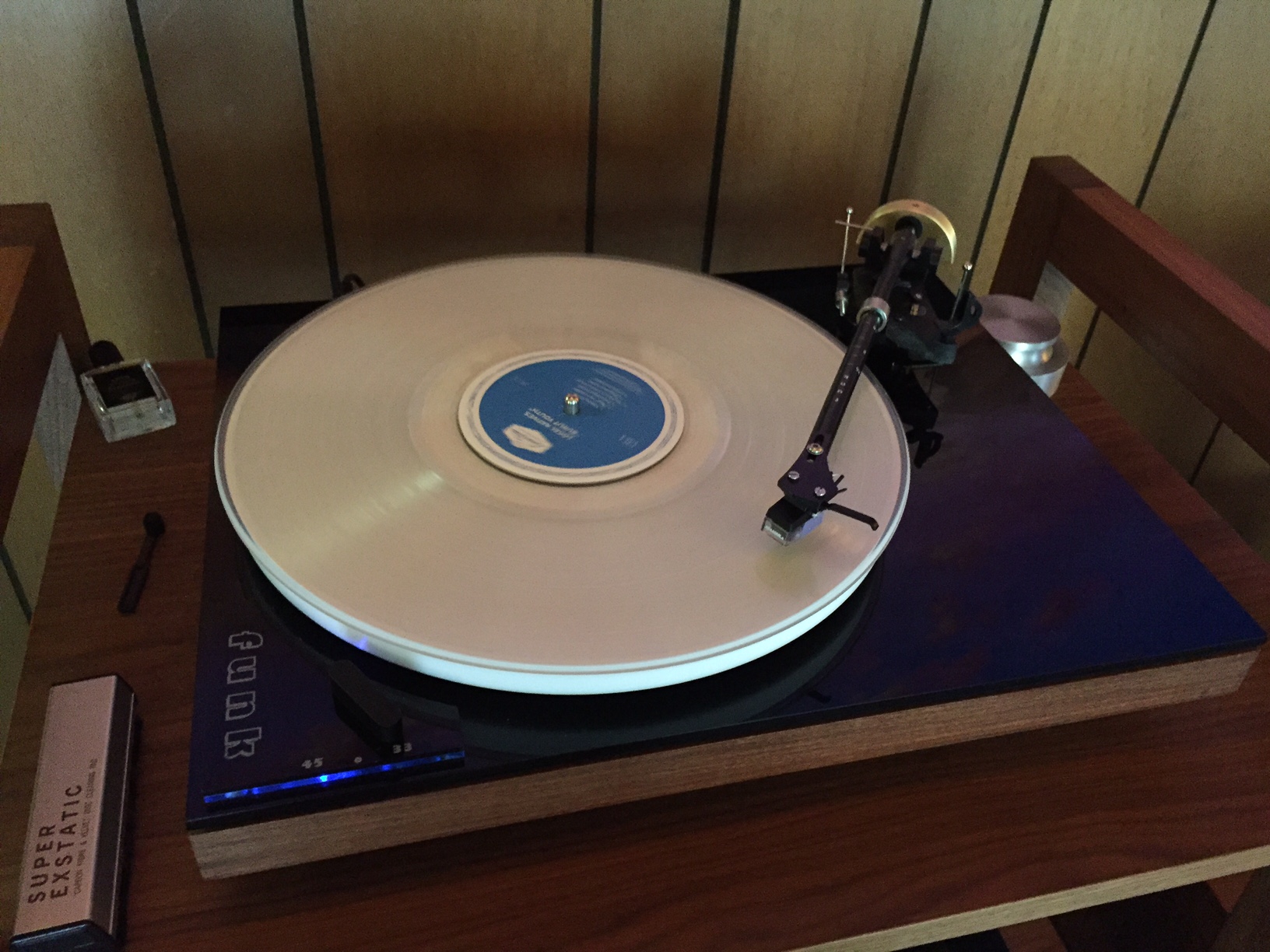 Gary , Has THE LIFT and the MOON WEIGHT .100 gm / .323 dia end stub
THANK YOU GUY
RB250 to replace the RB300. I found the perfect arm at Expressimo Audio. Brian had a Moth-badged Rega RB250 with Cardas/Wasatch wiring that had been cryo-treated which I did immediately purchase. He recommended the Half-moon Heavyweight and after some discussion he sent me two weights of that shape; one was 62 grams the other 65 grams. The cartridge to mounted in this arm (Grado Reference Platinum) weighs 6.0 grams so a weight in the 120 to 130 gram weight was perfect. Brian's recommendation to use two lighter weights allows for the front weight to be placed as close to the pivot as possible and the rear weight can be used to effect proper VTF. This arrangement seems to offer more stability, as in - less weight hanging out as far beyond the pivot.

I have had the same kind of effect from this arrangement as I did when I added the original Heavyweight; added bass weight, better sound staging and an overall more well-rounded sound. The thing that surprised me was the increased depth of sound staging and the clearer midrange (especially from the Grado). I'm not sure exactly what the wider stance of the weights does to the arm but it works! I have never had a Rega arm sound so wonderful. Top end air and spatial QUES are astounding at times. I now have a moving iron cartridge setup that makes listening enjoyable!

I would encourage anybody to contact Brian at Expressimo and discuss their specific needs; he is very knowledgeable and accommodating. The newer Half-moon Heavyweight is an improvement over the original drop configuration and the split weight system (two lighter weights) is a winner in my setup.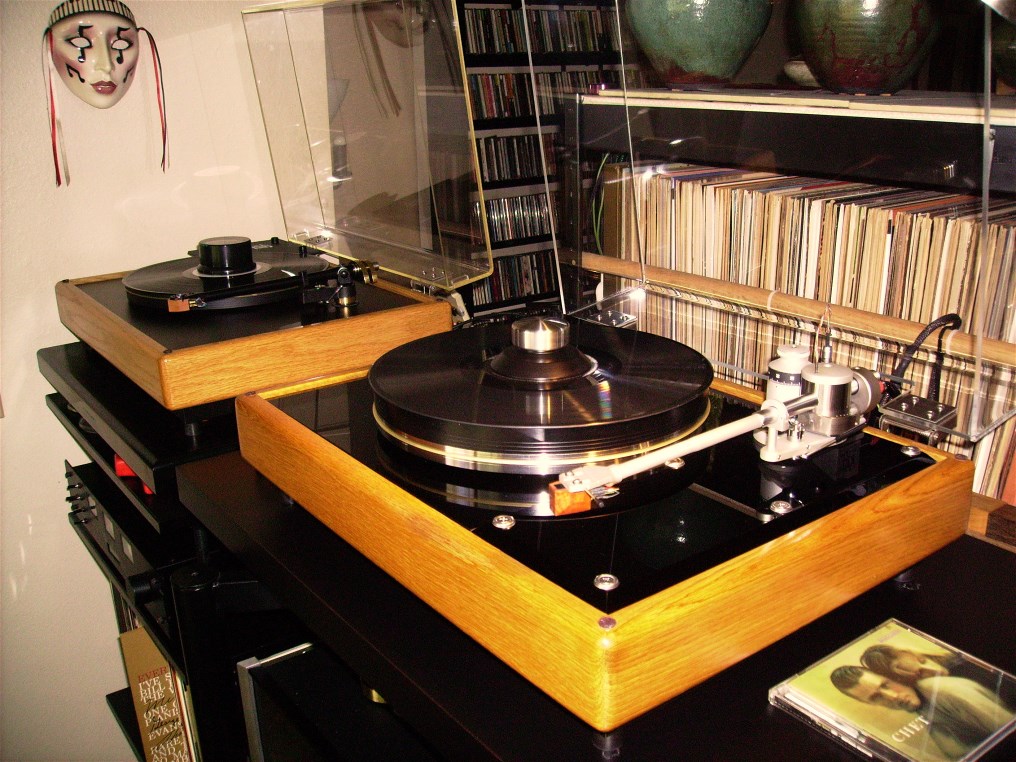 This 2 piece design was from Expressimo's $20K Mongoose tonearm.
Now you add the Brass End Stub with fine VTF adjustment and out comes the details / depth of the sound stage and
how wide the sound stage becomes, JUST AMAZING.
That looks BEAUTIFUL.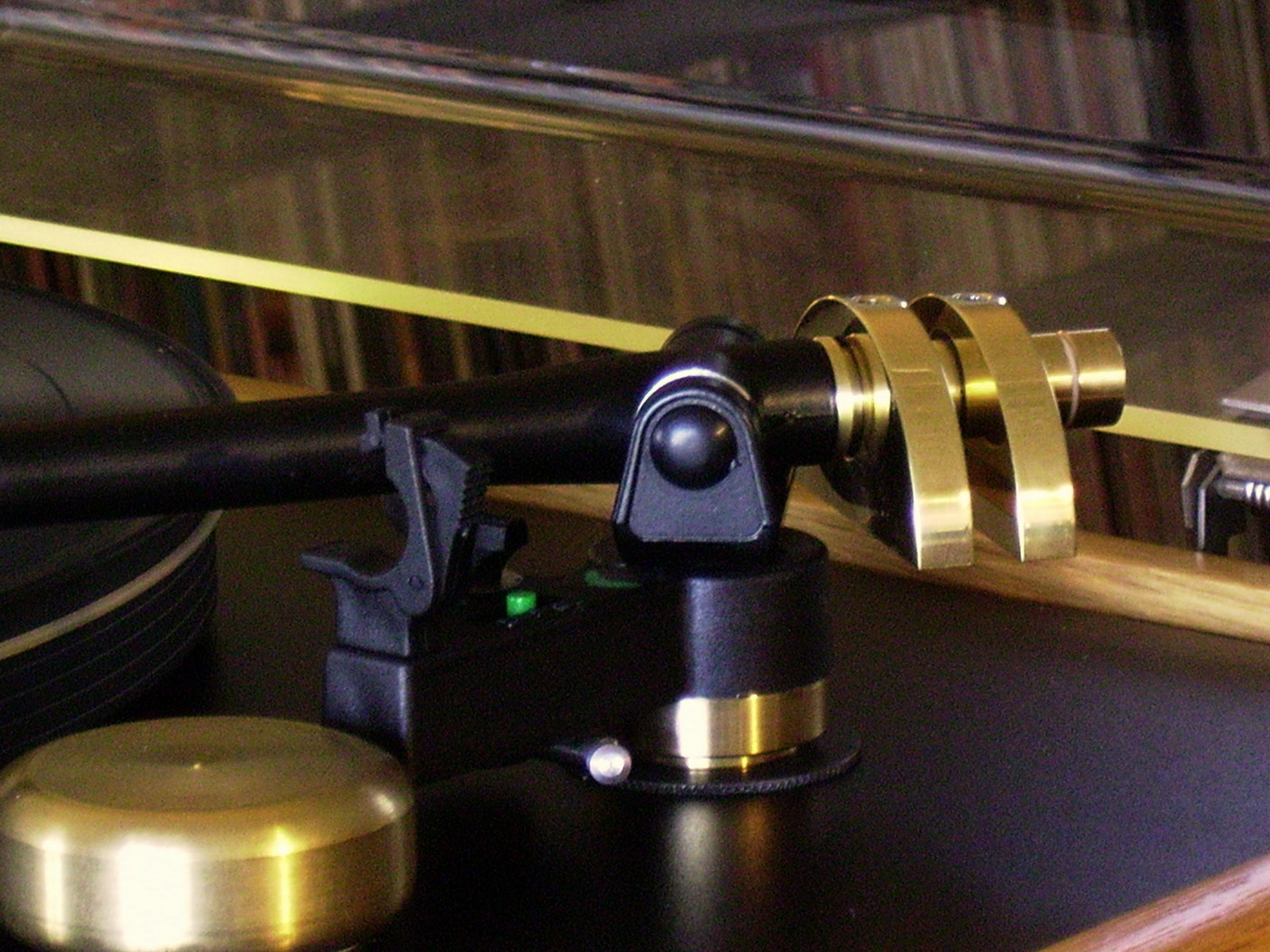 Hi Brian,
I have installed the stuff, and retweaked the alignment of the cart. Bumped-up the VTF to 2.15g, lowered the VTA. All excellent!!!
Here's pics of the Expressimo Audio counter weight on my Well Tempered TT. I'll post these up on Audio Circle as well.
I love it.
Large complex Orchestral music is the best have ever heard on my rig. Small combo/chamber music is now stunning. The effect on acoustic instruments is particularly improved, more snap & response. You will not be getting this back.
Playlist: Berlioz – Symphony fantastique / Genesis – Trick of the Tale / Palladian Ensemble – An Excess of Pleasure / Thelonious Monk – Brilliant Corners / Pink Floyd - The Wall / Stevie Ray Vaughn – Couldn't stand the Weather
Best regards,
dmm